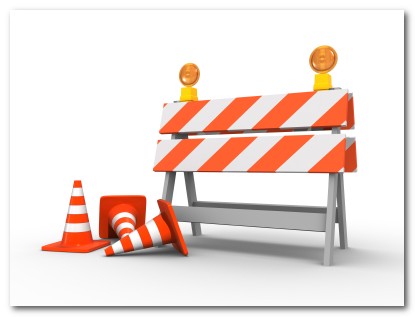 In 2009, Google places a lot of trust in authority.
Authority, in terms of ranking, typically means "an established site with a high number of inbound links from authoritative sources". Ranking might also have something to do with popularity. And the usage patterns on your site. And various other signals of "establishment" known only to the Google alchemists.
Whatever way you look at it, a new is difficult to get ranked in competitive keyword areas.
So what are you to do while you're waiting for your authority signals to build?
Way, Way Off Site SEO Tactics
Consider placing content on established sites.
There are a number of reasons why you might do this, including increased exposure, the obvious back-link advantages, and the kudos that comes with appearing on a high profile site. Compare the effort of writing one killer article for a high profile site, with – say – begging other webmasters for links. The effort may be comparable, but the rewards of following the former path can be significantly higher.
Even if you get no link value from content placement, at very least you'll get your name seen. This can lead to people seeking you out, whether you rank or not. We'll look deeper into branding aspects shortly.
Piggy Back
Try putting up a page on Work.com, Squidoo, HubPages, Knol and any other established sites that allow user contribution. This also provides a testing ground to see if the keywords you have chosen are worth ranking for, before you attempt to rank for the same keywords on your own site.
Are you good with video? Make a few video's and place them on YouTube.
Win Friends And Influence People
A good, meaty reply to a popular blog post can garner you a lot of attention, particularly from the webmaster who runs the site.
Because webmasters deal with constant spam and low quality contributions, a well-considered comment from a new writer will really stand out. The webmaster may follow your link back to see where that great comment came from. You're now on their radar, which increases your likelihood of getting a mention.
Make sure you already have similarly high quality content on your own site that is link worthy. BTW, I follow every comment left on my SEOBook posts, and find it a great way to learn about what other webmasters are doing. Lurkers never appear on radars.
Q&A sites, such as Yahoo Answers, WikiAnswers, and LinkedIn Answers, often have well-ranked pages. If you provide a great answer to questions, people may follow your link back.
You'll also get a reasonable idea of the amount and quality of the traffic that a page ranking for your chosen term, receives.
Position Against The Market Leader
If you have a competing product to a product already reviewed on Amazon, it can be a good idea to provide your own lengthy review. This is an online way of positioning against the market leader.
Here's an example.
Check out this singing course. Now scroll down to the review comments. The first long review you see is by the author of a competing singing course product.
This is a cunning way to leverage the popularity of the established leader. Get your own product alongside the market leader, which will then encourage readers to draw comparisons. In this case, the first review is associated with a product that is significantly cheaper than the product it reviews, a point the writer alludes to in his opening line.
Why Brand Is Important
Some webmasters only consider the back-link possibilities of these strategies, but they're missing the big picture.
Links are, of course, important, but also aim to build brand recognition. There is little point getting in front of people if they don't remember you, so to get the most out of the above strategies, you must be consistent and memorable.
Individuals make themselves memorable by adding a personal photo. Companies make themselves memorable using brands. Brands are a way of helping consumers make associations between your products and their problems. Aaron goes into depth on branding and how to leverage brands for SEO in the members area. In short, your brand, as well as being memorable, needs to hit empathetic points with your customers. A brand must resonate.
If you can convince people that your brand is what they need, regardless of where they see it, then they will seek you out by typing your brand name into the search box. Whilst you're waiting to rank for generic keyword terms, direct your efforts into making people aware of your brand.
As an aside, when choosing a brand name, check out Aarons post on Domain Names As Natural Brands. Aaron quotes this great line from Rick Schwartz, which is killer:
NATURAL BRANDING or BUILD and CREATE BRANDING

This alone is worth the price of admission. Brad told us his story of spending millions and millions to advertise and brand with his original 3 word creative domain name. When he switched and used a fraction of those ad dollars to buy a category killer domain name, he transformed his business. The dollars he was using to brand was now freed up to do other acquisitions and grow his business in a more dramatic way. NATURAL BRANDING may be the simplest way to describe what a great domain brings to the table."
Few small operators are going to have much money to spend on brand building, which is notoriously expensive. Weigh up the cost of getting a really good, memorable generic name. You're telling people who you are and what you do at the same time.
Try not to position yourself against an existing market leader with a strong brand. Instead, define a category you can be first in, and establish your brand there. I talk more about this aspect in my post"Marketing Driven SEO Strategy".
Summary
Look for ways you can contribute to other sites in order to build awareness, links and brand recognition. Find out where your competition is mentioned and try to get mentioned in the space. Leverage the authority of existing sites.
More: continued here