Recently I saw Barry Ritholtz mentioned that he was selling video recordings of a conference he put on for only $69, and some of the people who commented on his site wrote garbage like this: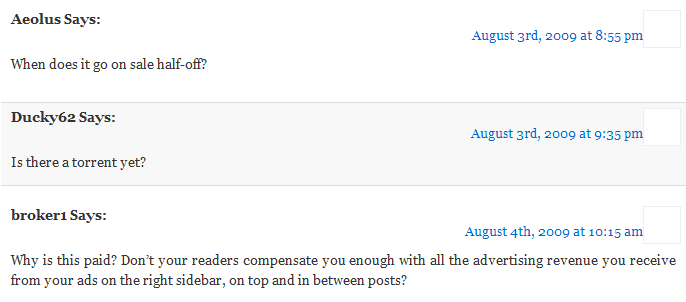 These people have enough capital to try to trade the markets, but spending $69 for one of the most in depth and most current pieces of information about their livelihood is completely out of the question. Imagine having the gall to register on someone's site to leave a comment like "where can we steal your work from."
And yet this is normal (and expected) behavior on the web, even in fields directly connected money / finance / investing!!!
Every day I get some non-customers who acts that way as well. The noise does wear you down, and it really does highlight the problems with free. When some people get hooked on free they have no end to the demands, and no respect or appreciation for the work.

I personally handle all customer correspondence, which is why I recently had to increase prices to slow down our rate of growth. I am only 1 person. Customers rarely wait as long as a day for a response. This guy never sent in 3 requests, was rude and demanding and demeaning, is not even a paying customer, and expects free phone support for software worth hundreds of dollars that we give away for free.
Why would I care if that guy used our tools for free? Since he is rude I hope he can't use them, such that any competent competitor interested in SEO has a competitive advantage over him. And that guy's rudeness shows that he probably lacks the social skills to be successful on a large distributed social network.
When you chose your customers you are picking how much you will enjoy your job.
There are a lot of potential bad customers like that, and you don't even want to suggest they become a paying customer. The only ways to handle people that are that rude are to either ignore them or tell them off to let them know they are not welcome in your business. If you play nice with a person that treats you like a doormat then it will only get worse in time.

The person who needs a lot of support BEFORE becoming a paying customer rarely becomes a profitable long-term customer. The person who needs a price break today expects a larger one tomorrow. They keep squeezing margins until you are a commodity and the model no longer works. It is just a path to self destruction because if you cater to such people you do not raise them up to your level, you lower yourself down to their level.
This reminds me of an important business lesson from a Dan Kennedy book called The Ultimate Success Secret that a great friend recommended I read about a year ago.
When I first started in the "success education business," one of the few people in the country who was consistently effective at selling self-improvement audiocassette programs direct, face-to-face to executives and salespeople, gave me what turned out to be very, very good advice – he said: "Don't waste your time trying to sell these materials to the people who need it the most. They won't buy it. You should focus on selling to successful people who want to get even better."

Over the years, I've demonstrated the validity of this to myself a number of different ways. And I've developed an explanation for it. There is what I now call "the self-esteem Catch-22 loop" at work here: in order for a person to invest directly in himself, which is what buying self-improvement materials is, he has to place value on himself, i.e. have high self-esteem, but if he has such high self-esteem, he is probably already doing well and does not have a critical need for this type of information; he will get marginal improvement out of it; but the person who needs it most does not place much value on himself, i.e. has relatively low self-esteem, which prohibits him from buying, believing in or using self-improvement materials.
I used to be all about making everything (or as much as possible) free because I liked helping people, but really most people won't act on advice or respect it much unless they pay for it. Human nature is what it is, and there is no point fighting it. 😉
At some point we may need to test moving from offering any tools for free to making everything paid just to filter out that noise. Such a move would likely cost us exposure, but most of that exposure is not leading to any tangible business anyhow.
More: continued here